For many organizations, the benefits of migrating all or part of their infrastructure to the cloud is no longer in doubt. The looming questions, however, center around how and when to do it, and exactly what should be moved to the cloud or remain on-premises. Done right, you'll reap the performance enhancements and cost-cutting that the cloud promises; done wrong, and your migration will break key parts of your infrastructure and bring the business to a screeching halt.
As a best practice, your migration strategy should include the following components:
A plan to assess your current performance and requirements, step-by-step details for the actual cloud migration, and a way to manage and optimize once you're there.
A method for capturing the data for the apps you want to move before building your plan.
Deep analysis of that data to ensure that your performance meets requirements—which will make the migration seamless for your customers.
At Trellist, we see many organizations consider a move to the cloud for their website or ecommerce site at two key points in their history:
When it's time for license renewals.
During a brand refresh or brand rollout.
Both milestones are good opportunities to reassess and consider migration. Since the cloud allows you to scale up and scale down your available resources to meet your performance needs in real-time, it's a better option than incurring a fixed cost of a new license for systems you may not need—plus the maintenance and security issues of maintaining your site on-premises. If your brand is undergoing a refresh or rollout, it's also a smart option since the cloud can help you provide a better customer experience and customer service.
The Cloud Gives Marketers More Control
The right solution can be transformative to your business. As both Microsoft—and—Sitefinity certified partners, the team at Trellist is helping marketers navigate the intersection of marketing and technology to find the right platforms for their brand, without being bogged down by the minutiae that often create a roadblock to successful migration.
We've seen marketing teams use the cloud to unlock their workflow. There are new waves and versions of content management systems (CMS), empowered by the cloud, that essentially eradicate internal workflow processing bottlenecks—even for globally-distributed teams. By moving this workflow from an on-premises environment to the cloud, it reduces traffic internally. It can still be done with a single sign-on, so it looks like your environment and implements the same security protocols. This makes it easy for your team to use the CMS to do everything a marketer needs to do to support an ecommerce website—from managing content and tracking traffic to analyzing performance and shaping the customer journey.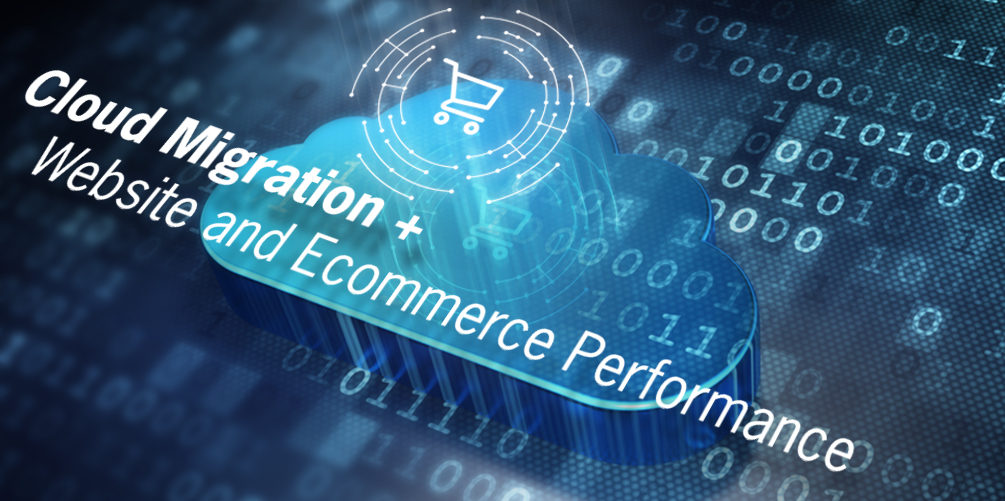 Migrating to the Cloud in Action: Two Examples
At Trellist, we help organizations move to the cloud to support a variety of business goals. The following two examples may help you envision your own cloud migration and how it can help you reach your objectives faster and more cost-efficiently:
Trellist has been the prime developer for an international swimsuit company, increasing online revenue over the last 5 years by over 400%. As their online revenue grew, there was increased demand on their internal infrastructure, where they hosted both enterprise systems and the ecommerce website. We helped to stand up a new cloud environment and successfully migrated the ecommerce website and its processes to this scalable environment. We established a secure and seamless method of data transfer between the ecommerce website and the enterprise systems, which are still hosted on premise. Moving customer-facing applications, like their ecommerce system, provided a scalable model without additional need for internal IT resources while reducing infrastructure costs.
Trellist is also the prime designer and developer for a new corporate website and ecommerce site for an international aerospace parts and chemical compounds distributor. The new websites will be hosted in a cloud environment to reduce costs and gain scalability as the websites grow. We helped to build a new cloud environment for the new websites, scalable to the business' demands. We also set up and configured all Sitefinity website content management software and deployed the new website into this environment. Together both the cloud environment and Sitefinity provides a seamless experience for their internal, international marketing team to make updates to the website and market to their end customer.
Is a Migration to the Cloud in Your Future?
The most effective cloud migration will be the one that meets the specific needs of your organization. The beauty and promise of the cloud is its scalability, always-on availability, better security, and streamlined workflows for your team. If you're at one of those key inflection points in your organizational history—either a license renewal or brand rollout—it may be time to consider migrating your websites or ecommerce sites to the cloud.
The two use cases highlighted here are good examples of the benefits you can expect when working with Trellist for your cloud migration. Some of the benefits are inherent to the migration itself—such as better scalability and security, seamless content management for your team, and the reduced costs associated with no longer managing your resources on-premises. However, the real value will never be realized without the right migration strategy, implementation, and ongoing optimization.
It's like having a fast race car ready to tear around the track without someone who knows how to drive it. If you're ready to move to the cloud, Trellist can help you realize its promise for better performance and an unparalleled customer experience at a lower total costs of ownership.

To learn more about our approach, contact Nick and Primus