Portions of this blog were adapted from a previous Trellist article on recruiting by the author, titled "The Importance of the Kingmaker."

Successful recruiting is one of the most important components of your organization's health and wellbeing. Like proper nutrition for your body or premium fuel for your car, your people and your teams are what keep your organization moving in the right direction. Unfortunately, many organizations don't spend enough time on the recruiting process or fall into one of the common, and usually avoidable, pitfalls when vetting a new hire.

When you get recruiting right, your team moves forward, gains a competitive edge, and moves closer to your goals. Get it wrong, however, and you can bring your organization to a halt, at least temporarily. After all, you're making a huge investment of time and money to find, interview, train, and integrate a new hire into your organization.

At Trellist, we place a premium on the recruiting process—for our clients as well as for our organization . It's how we build teams that collectively create better solutions. Here are a few of the "secrets" to successful recruiting.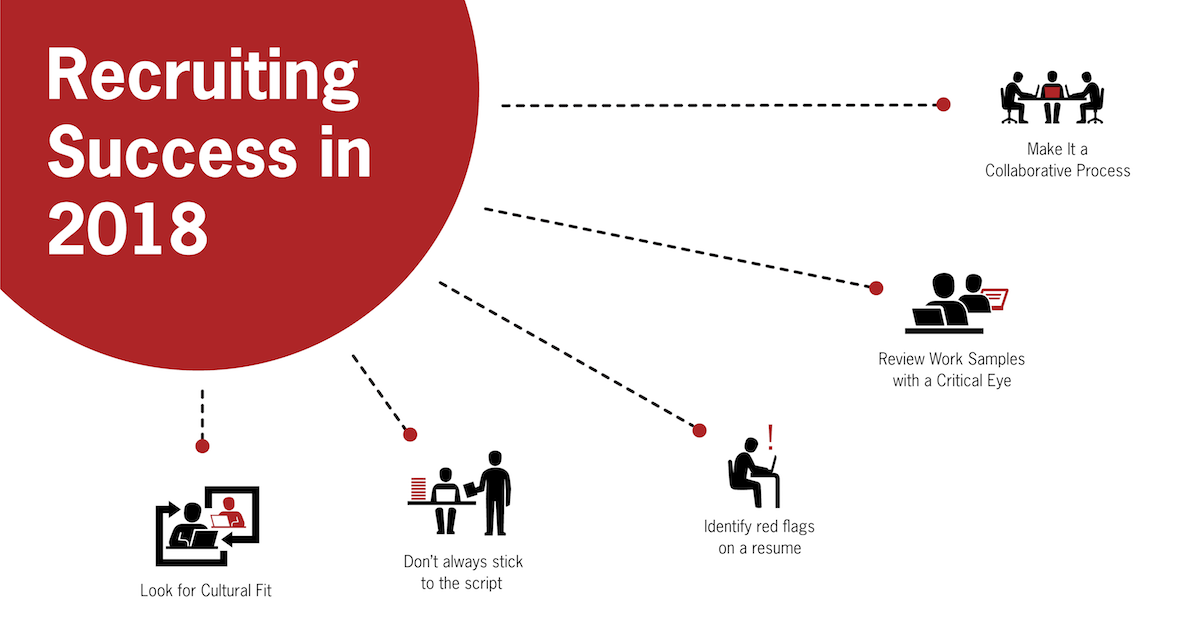 Look for Cultural Fit
Hiring for skills is important, but unless the skill you need is highly specialized, there are likely many candidates who can perform them adequately. If you narrow your search to two candidates – one with slightly better skills vs. another who is a better cultural fit – you're more likely to see better results by selecting the person who will integrate with the team more easily.

Tip: Make sure candidates meet members of the team they'll be joining. If it's feasible, do this outside the office as a coffee meeting or lunch, since you're more likely to get a feel for their personality than you would in an office environment.
Don't Always Stick to the Script
You should have a set of standard questions to ask each of the candidates applying for the position. These questions should serve as your "control" so you can compare answers between candidates. At the same time, keep in mind that no interview is completely linear, and you'll think of new questions as the meeting progresses. Don't be afraid to vary from the script.

Tip: Every good interview should be a conversation. Don't interrupt the flow just to get your questions answered. You can always come back to your planned line of questioning later in the meeting.
Identify Red Flags on a Resume
Candidates have the added advantage of online resources to polish their resumes, so you'll see a lot of sharp-looking CVs pass your desk. Sometimes, a well-designed resume can overshadow some of the red flags you should be looking for. Keep an eye out for candidates who miss the basics, including major gaps in work history, someone who bounces around from one job to the next, and the standard mistakes (grammar, spelling, etc.), especially if you're filling a detail-oriented position.

Tip: If a candidate looks great otherwise, don't automatically rule them out based on a minor question about their job history. It's worth hearing the explanation, at least during a phone screening. The way they answer the question about a gap can reveal their integrity and ability to think on their feet.
Review Work Samples with a Critical Eye
Samples of work are critical to many creative jobs, but they can be manipulated. You have no real idea what parts of someone's portfolio actually represent their own work or the output of a creative team. Review these samples with a critical eye and ask questions about their role in creating them.

Tip: When possible, have your candidates produce something during the interview process – a written test, design piece, or section of code – to get a more accurate view of their work.
Make It a Collaborative Process
In addition to meeting their team, the candidate should meet other people in the organization as well. At Trellist, every candidate meets with our variety of leaders so they can be vetted from different, valuable perspectives. Likewise, this gives candidates a holistic view of the organization instead of a static (and likely incomplete) look.

Tip: Have candidates meet with employees at different levels in your organization. It's acceptable to ask them to return for multiple visits if they are qualified and interested.
Always Be Recruiting
Just finding the right candidates for your business isn't the only important practice for a recruiting-savvy business. Replacing a full-time employee can cost anywhere north of 150% of that employee's salary, making the loss of even a $50,000.00 employee cost closer to $75,000.00. Considering the trend continues to see highly skilled employees job-hopping every 2-5 years in search of higher salaries and greater benefits, employers may be reeling as they try to avoid turnover costs. At Trellist, we engage in a living culture with our employees, having frank conversations when it comes to matters such as performance and pay expectations, in-office perks, benefits, and ideals that speak to our company's identity and foundations—not unlike what you'd expect to take place during an interview. These conversations fuel continued engagement with employees across the company, and encourage them to take ownership of their employment.

Tip: Just because the interview's over doesn't mean you can (or should) stop recruiting your candidates. Having frank, candid conversations and asking the hard questions throughout an employee's lifecycle creates mutual investment: employees know they have a path to action and that they're cared for, while you are able to better understand employee needs.

Following a few of these "secrets" will help ensure you find the ideal employee when interviewing your next new hire.

We can also help you find your perfect fit, as a candidate or a partner. To start the conversation, contact us at staffing@trellist.com.