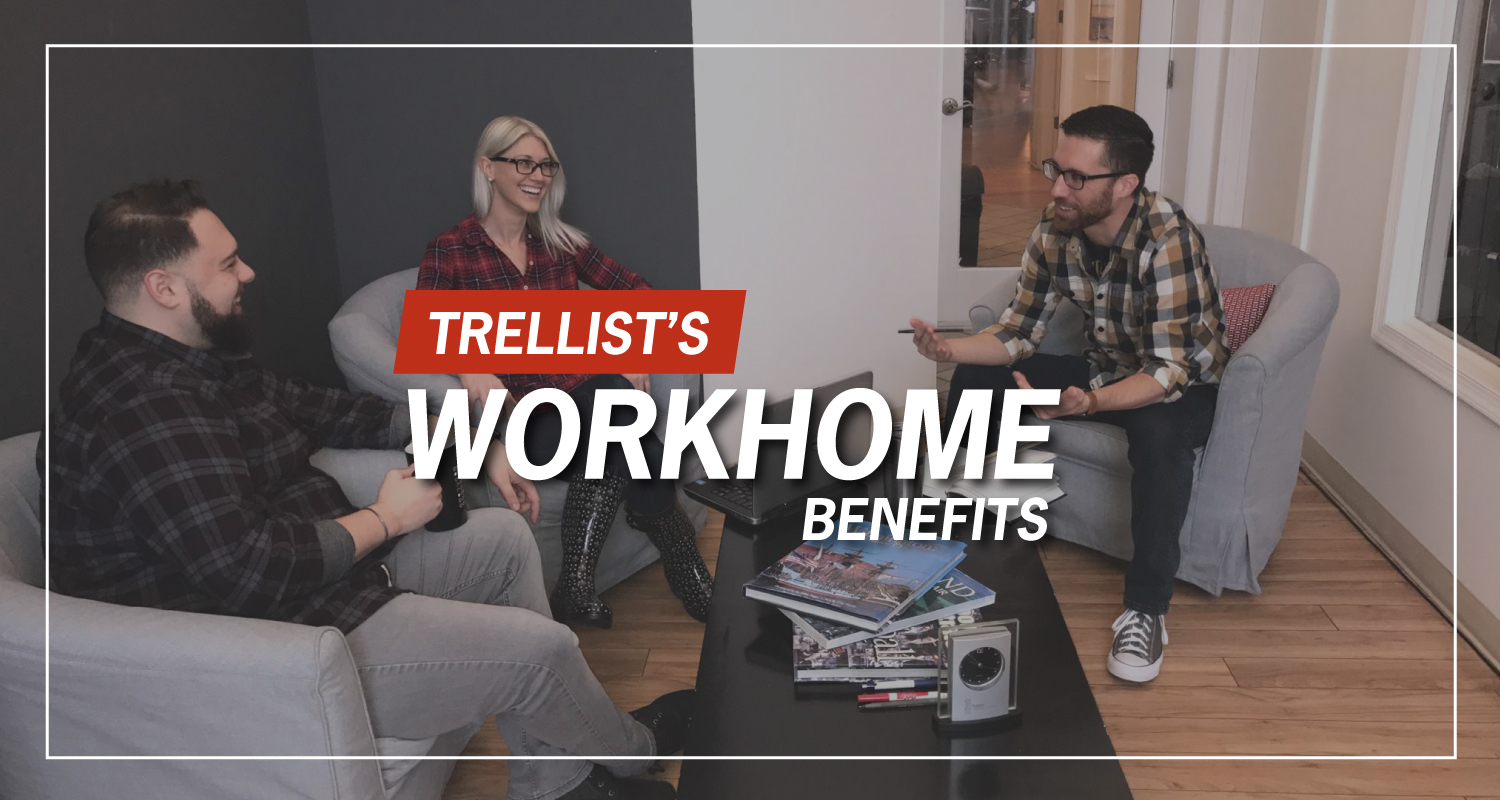 At Trellist, we operate in a sociable, personal, and professional environment—what we call a workhome—where we strive to meet each other on common ground and that serves our clients and employees.
A workhome is a place where our employees feel safe and respected and where collaboration and free discussion are encouraged. It's where they are unfettered by the trappings of a typical corporate hierarchy and can self-manage, because they exhibit strong judgment and work based on clearly communicated foundations.
This environment allows us to develop and maintain more sociable relationships than you may find in a standard politics-laden office environment and to compartmentalize between serious business and friendship mindsets so that work is always keenly prioritized. This, in turn, creates strong bonds. Our shared bonds not only make the environment more kind and enjoyable, but it also means that clients are working with people who are passionate about those they work with and are committed to doing right by them.
When it comes to creating a workhome, accountability, emotional intelligence, and social maturity are priorities. These are in addition to the high standard of expertise we seek when bringing potential employees through our doors for an interview.
Trellist's workhome environment encourages employees to be vocal and set their own boundaries with each other in an authentic, sociable manner. It also equips them to actively engage with each other according to their interests and personalities, in a way that transcends typical strict departmental architectures. This builds true relationships among our employees. And it also enables critical problem solving and an environment akin to a "teaching hospital," where employees experience accelerated learning on any number of topics, supplementing their inherent talent and expertise. Every person becomes additive, enriching the collective whole. And because we realize this kind of environment isn't for everyone, there are seldom hard feelings when something doesn't work out long term.
Our clients benefit from our workhome because we're completely agile and can quickly pivot to complete projects much faster and, many times, at a lower cost than other companies. This leads to smoother communication, fewer project bottlenecks, and a greater degree of efficiency and efficacy for all concerned. We think like business people to clearly understand your objectives, and we personally invest in the work as an extension of your team.
Here at Trellist, we believe that a workhome positively impacts the experience of our clients and our employees.
Connect with us today
to learn how you might fit into the picture.