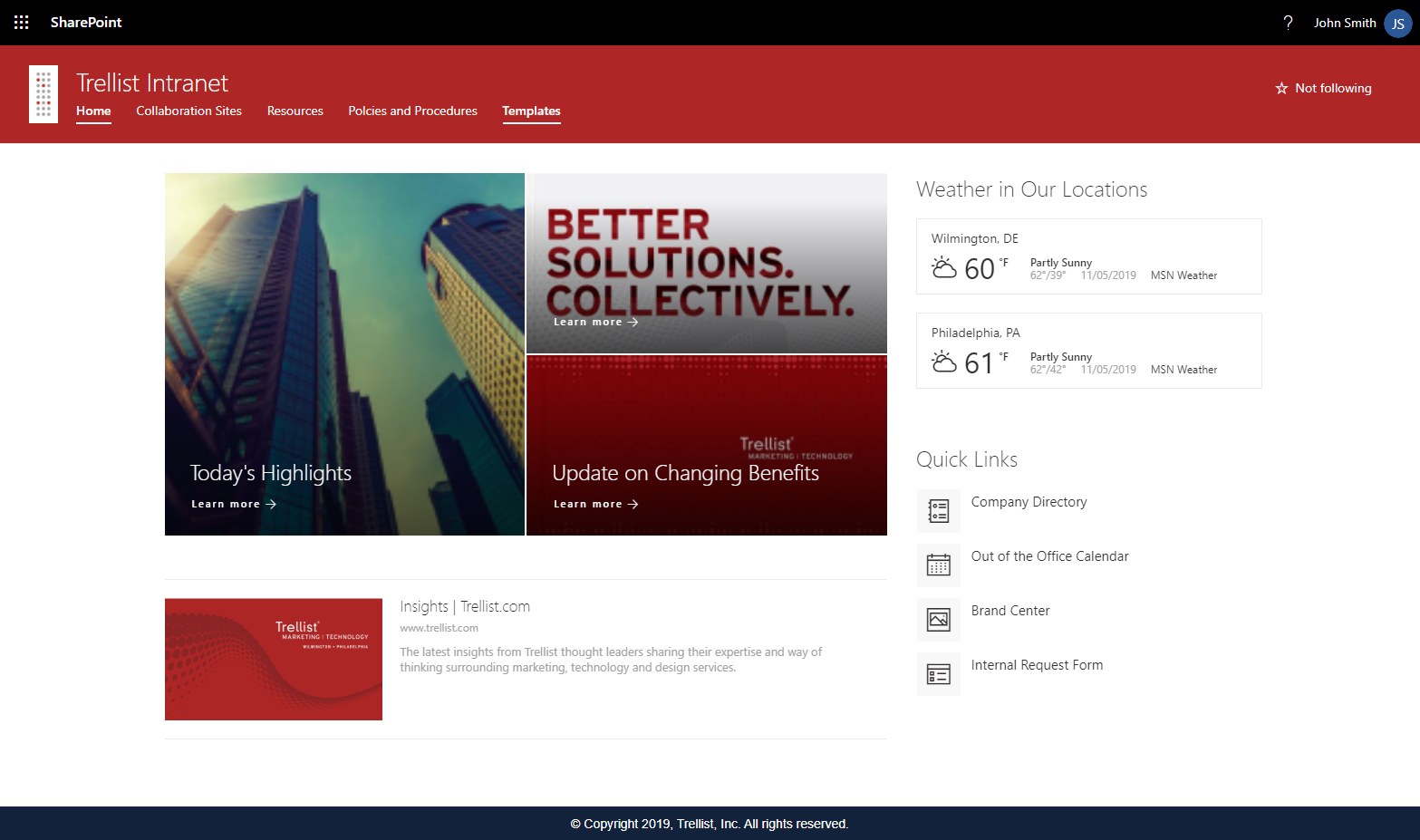 With the adoption rate of SharePoint Online skyrocketing and Microsoft's continued investment in the modern UI, content management and collaboration are changing. As companies shift from "classic" SharePoint to the "modern" interface, how they express their brands must also change. Modern SharePoint, while still flexible in many ways, removes the ability to fully customize the look and feel of the site and leaves many companies wondering, "How do I make the modern SharePoint reflect my brand?"
Corporate branding is an important driver in employee engagement and culture, and it's a great way to provide consistency throughout company assets, including the corporate intranet. Does it need to include more than your colors, logo, and fonts?
For many companies, the answer is yes. These companies have invested in highly customized SharePoint sites, and for them, moving to the modern interface may not be the right decision. (Microsoft has generally stopped enhancing the classic SharePoint interface and isn't removing classic configuration options, so the customizations in place should continue to work for these companies.) The downside is they can't take advantage of many of the modern web parts and features that are continually added to SharePoint Online. They also must remain vigilant, making sure that changes to the SharePoint Online environment don't impact their custom designs.
For other companies, the answer may not be so black and white. While colors, logos, and fonts are important, it may be best to embrace the modern interface for reasons including the integrated responsive design, improved user experience, new web parts and features, and overall "modern" look and feel. With the modern interface, creating pages is faster, web parts are intuitive, and the page content areas are flexible.
Is there a middle ground? Yes. Companies can create hybrid sites that include both modern and classic integrations, but this approach makes it much harder to implement a consistent interface.
What branding options are available in the modern interface?
As designers and content managers, we have to evolve our own methodology when working with clients on company intranets in the modern interface. Many of the strategies we used in the past to style and brand are no longer available. Updating the SharePoint modern site with brand colors, logos, and fonts requires a different mindset and methodology.
Out of the box, SharePoint provides administrators the ability to:
Add a color and logo to the Office 365 banner bar
Apply default SharePoint themes
Add a company logo
Set a web part to a color block within the page
Customize the SharePoint theme using preselected colors
Select changes to the site and page headers
As you can see, the options available are limiting. Adding your logo is nice, but the out-of-the-box colors don't include most companies' brand colors. What's a company to do?
Though not as robust as the ability to customize the site entirely, there are a number of supported approaches for integrating corporate branding in the SharePoint modern interface.

For example, companies can:
Add company-branded theme templates
Hide out-of-the-box themes so only company-branded themes are available
Create site templates to apply themes and other branded assets
Format lists and columns
Set hub sites to inherit themes automatically so branding is consistent
With the right knowledge and expertise, and by utilizing the options available within the modern SharePoint, companies can enjoy all the advantages of the modern interface while developing sites that reflect their brand identities.
Trellist helps clients realize the full potential SharePoint holds for their organizations. We have helped businesses across a variety of industries implement SharePoint and other collaboration tools. If you'd like to explore how we can help your organization, please contact us at sharepoint@trellist.com.