While social media has forever changed how businesses and customers interact, social media marketing as a whole is constantly evolving. To ensure your brand's content garners likes, comments, and shares, your strategy must shift with the industry's latest trends.
2017 was indeed a year of change, innovation, and, most importantly, growth for the Social Business pros at Trellist. Here's what we were able to accomplish for our clients across healthcare, financial services, chemical manufacturing, and other industries: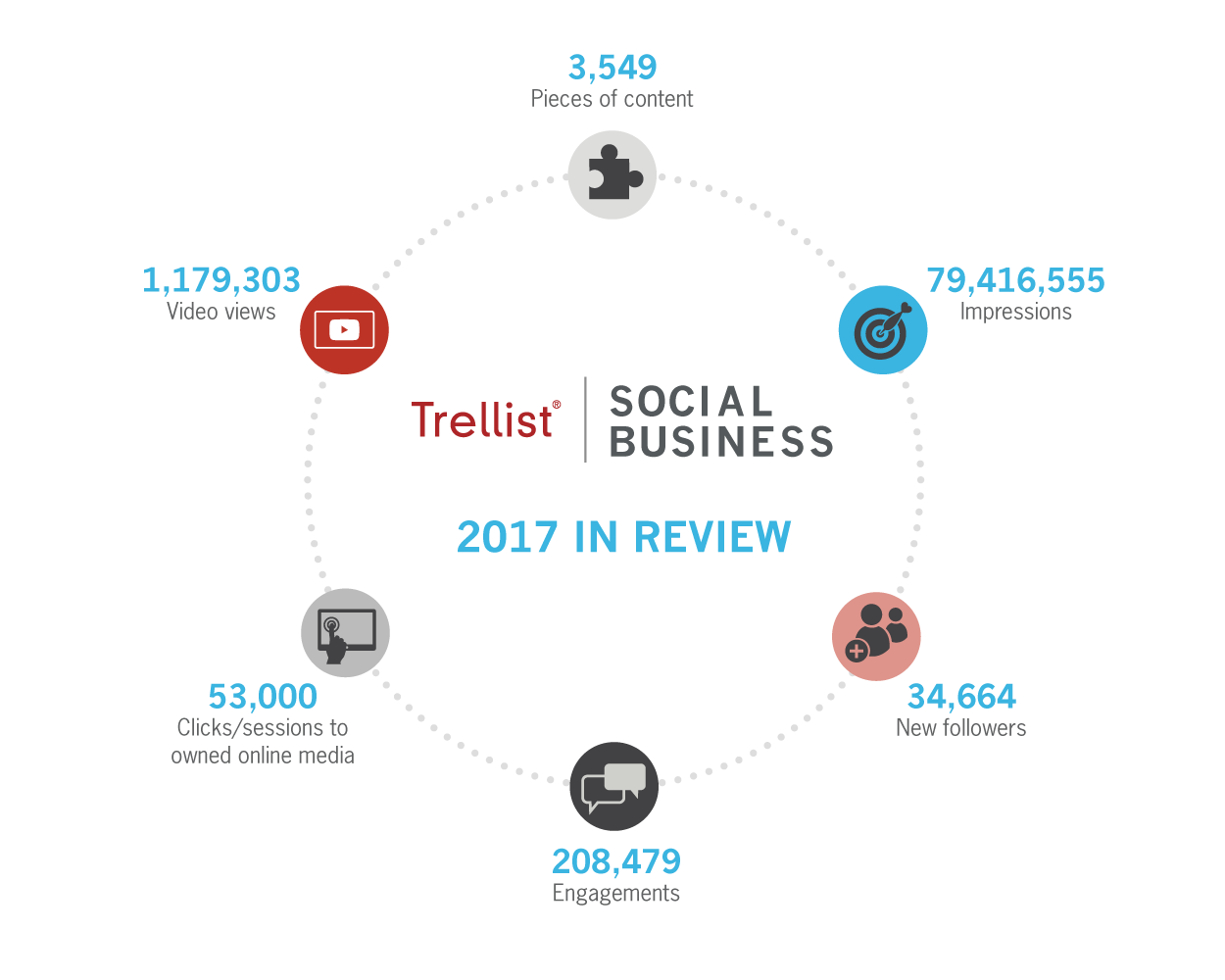 In addition to those highlighted metrics, we analyzed clicks, likes, comments, follows and more activity to understand what changed in 2017 and get a better feel for what's coming in 2018. Here are a few of our key observations:
LinkedIn and Instagram grow faster than Facebook. Facebook continues to be the industry giant thanks to its massive user base and robust advertising platform, but other channels have begun to grow faster than Facebook, which could be approaching a saturation point.

LinkedIn was the fastest-growing channel for our clients in 2017. The professional social network has become a powerful tool for brand advocacy, talent acquisition, and eCommerce. In 2017 alone, we saw a 66% increase in engagement on LinkedIn. Across all social channels we manage and monitor, LinkedIn followers grew the most at 56% by year-end. In 2018, we expect to see continued growth in followership and engagement, aided by new tools and features for marketers as a result of Microsoft's late-2016 acquisition.
Instagram was purchased by Facebook in 2012. While new features have been steadily announced and rolled out since the acquisition, 2017 was a pivotal year for Instagram.
While LinkedIn aligns itself with Business-to-Business strategies and Instagram with Business-to-Consumer, their growth signals significant shifts in the social media landscape.



The continued decrease of organic reach. While our clients' organic reach held steady throughout 2017, Facebook continues to throttle how many users see brand posts for free. This underscores the need for a consistent paid social media strategy across all industries.


Content consumption becomes increasingly mobile. This year, mobile sessions surpassed desktop, increasing each month. Content and text should be optimized for mobile first, as we predict mobile will continue to surpass desktop browsers as the most popular place to consumer content.
Social media continues to be a disruptor. While significant changes within the landscape are rare—such as a new channel launching—new features for customers and advertisers alike result in customers using platforms in new ways. As a result, evaluating annual trends and testing strategies based on expanded functionality and trending behaviors becomes critical to brand growth.

Click here to see more of our work and contact us.