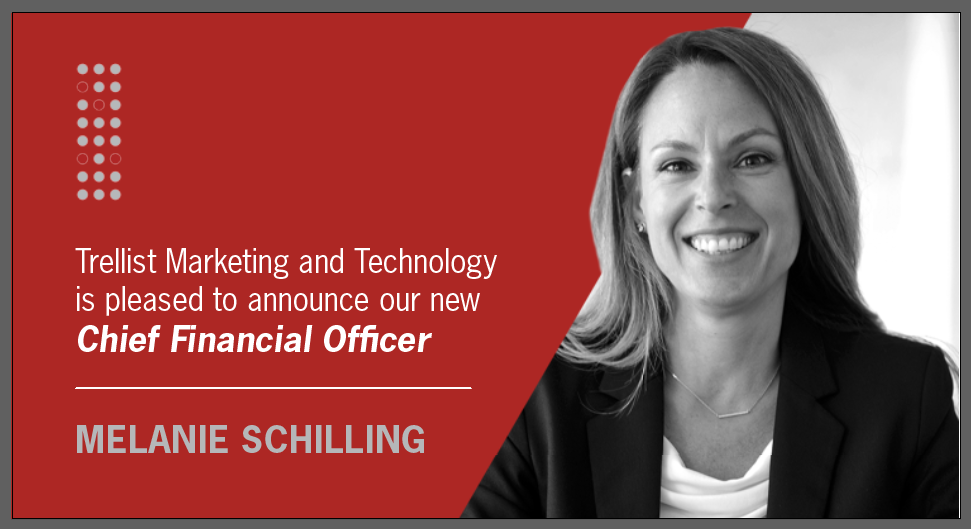 Trellist Marketing and Technology is pleased to announce that Melanie Schilling has joined the company as Chief Financial Officer. Melanie will lead Trellist's fiscal and accounting functions and ensure the stewardship of the company's financial matters. She will also perform other significant leadership roles, as is common at Trellist.
Melanie comes to Trellist with an impressive professional background, including big four experience with Ernst & Young, accounting and compliance experience in healthcare, and domestic and international financial and controlling oversight responsibilities for a global distributor in the life sciences industry. Melanie has successfully managed commercial and operational P & L's surpassing $400M. Among her many strengths is her ability to effectively engage her organizational constituents as she champions a true partnership approach.
"Upon witnessing the collaborative culture, entrepreneurial spirt and tremendous strategic opportunities ahead, I am proud to be joining the Trellist team at this exciting time," said Melanie. "I was attracted to Trellist's many years of transformative success as well as their model for growth moving forward. This exciting new opportunity also allows me to build upon my existing skillset and share experiences with a dynamic team."
"Melanie is exactly who we had been looking for in taking Trellist to the next level," said Trellist CEO David Atadan. "We needed a person with a blend of business, financial, and accounting experience, along with a desire to build businesses in a hands-on way. Finding all of that, along with her outgoing personality, made her the perfect fit."
As CFO, Melanie will serve as the bridge between fiscal operations and strategic execution as Trellist grows, evolves and adds to its family of companies that includes Andy Lally ALIVE
®
, an automotive and motorsports enthusiast company offering an array of digital products and services.
Melanie holds a Bachelor's degree in Accounting from Rowan University and hails from West Chester, Pennsylvania.